I realized there are people who have a mission from birth. Also, I knew I have never known that kind of people's feelings and I will never know it in the future either. They live in a different world.
On December 6th in the evening, I went to Burdock Music Hall in Toronto to listen to jazz music because my friend is a big fan of jazz pianist Ben Rosenblum. I played piano in the past, so I was so excited to listen.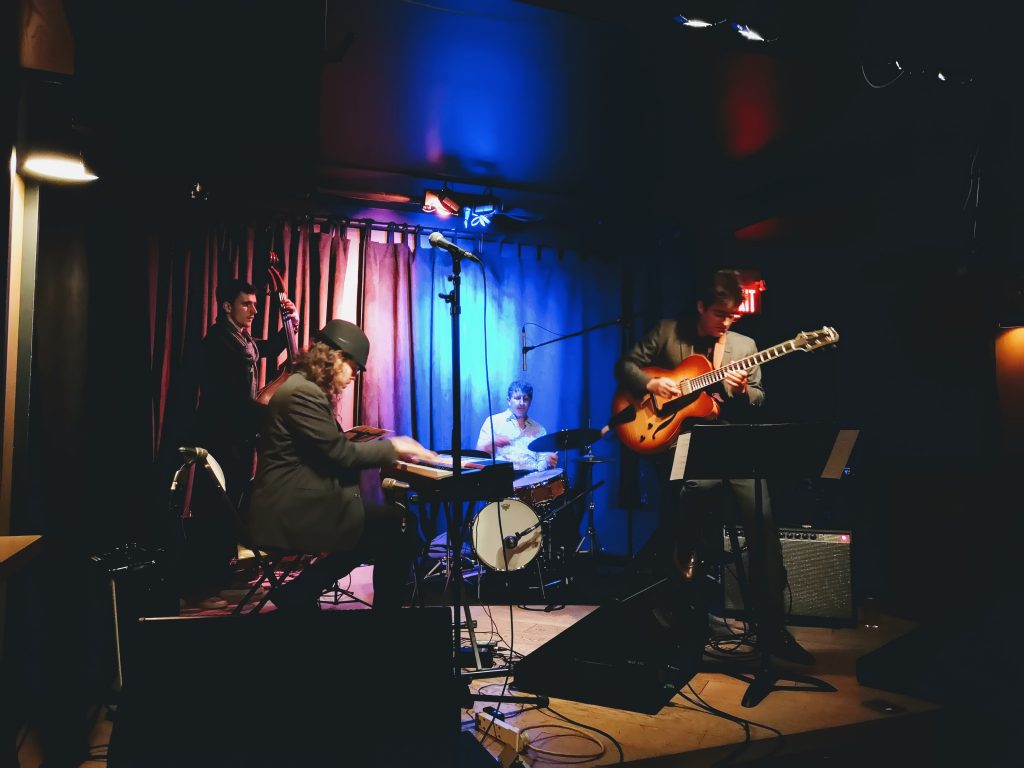 According to what I heard, he was born in NY, started to touch the piano by himself at 3 years old, did his first piano lesson at 4 years old, commenced playing jazz piano also at 12 years old, and began to compose from 14 years old. He released two albums and he debuted in Canada and Japan this year, in 2018. This spring, he visited Japan for his two-week tour. On the night that I went with my friend, the Ben Rosenblum Trio featuring Sam Kirmayer had a show in Toronto as part of their Canadian tour to promote his new album "River City".
The Ben Rosenblum Trio consists of pianist Ben Rosenblum (NY), drummer Ben Zweig (NY), and bassist Jonny Chapman (Montreal), with feature guitarist Sam Kirmayer (Montreal). Needless to say, Ben Rosenblum's piano was incredible and their harmony was marvelous. All the players were amazing and especially Ben Rosenblum had an aura that made him stand out. His piano was unbelievable; he never touched the wrong keys even though he played very fast. I couldn't even see his fingers. While playing, he looked really happy to play the piano, like a kid.
Do I really, really love things so much that I can't hide my emotion? I asked myself this. However, I didn't find any answer in my mind. I guess many people have the same situation like me: I'm jealous of him. However, I can imagine easily he has played piano a lot since he was a kid. He has a talent as a jazz pianist, and he also has a genius for hard work for so many years of practice. I hope I can listen to his music in the near future in NY, Toronto, Tokyo, or somewhere else in the world.
I hesitate to say so after explaining about this genius pianist Ben, but after the concert I suddenly wanted to play piano because he looked so happy doing it. It influenced me. I haven't played piano for many years and I know I cannot play piano like him, but I still have the urge.
I'm a very lucky person, since my friend recommended me to go to this show. I really appreciated her introduction to this kind of passionate person. That made me to realize that when I go out and meet people, I can see other worlds which I haven't seen before. Recently, I haven't gone out very often like I did before, since I started my new job. However, I've decided to go out more often. I won't concede to Toronto's very cold weather anymore.
—>Japanese ver is here